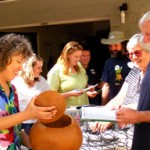 How to Apply for a FNQ Community Exchange Account
1. Download an Application Form
here
. Print, complete both sides, and return form and application fee to PO Box 440, Malanda Qld 4885 by mail.  Local Area Contacts and other FNQ Community Exchange admin may also collect forms and money from you.
Cheques should be payable to Tableland LETS.
Accounts are available to anyone residing in Far North Queensland.  You may join FNQ Community Exchange as an individual, family, household, business or community group.  See the User Agreement on page 2 of the Application Form and also see Terms and Conditions here at Community Exchange.  Only signed Applications will be accepted.
Fees
Initial Fee: $20 per application.
Annual Account Keeping Levy: Approximately 12 Bartles (payable each August for Users joining prior to July of same year). Occasionally, discounted and sponsored accounts are available.
User Benefits
Becoming an account holder entitles you to:
Trade in FNQ Community Exchange with over 800 households and businesses across FNQ
Use the online noticeboard for trading at

Community Exchange

Attend trade events and other FNQ Community Exchange events, including paying for workshops and other events with Bartles
Connect with a network of FNQ Community Exchange Users through

Community Exchange